No one works in isolation and I want to use this space to tell you about the organisations and/or products I use to help me be a good and successful therapist.  I've thought long and hard about this page and I see it as a way of placing me in context.  For instance, I trained at the Quest Institute and wouldn't be here without them!
I'll also add other links to people and services I've found useful or I work with.  I need to put the usual warning in here and tell you that I am not endorsing or recommending them to you, but if you don't know about them you won't be able to maker your own mind up will you?
Quest Institute - A training school run by Trevor and Rebecca Sylvester and so much more.  Trevor is also a speaker, broadcaster and author who really does walk the talk.  Their website is a great place to start if you have a curious nature about cognitive hypnotherapy and to find qualified practitioners like me.
Scotland Hypnotherapy Foundation - This site operates on behalf of qualified hypnotherapists working in Scotland.  It checks qualifications meet the required standard for membership of the CNHC and access to professional insurance.  They run an annual conference and options for continual professional development (CPD) throughout the year.
NCH - National Council for Hypnotherapy - The NCH represents over 1800 hypnotherapy professionals within the United Kingdom and is committed to ensuring the highest possible professional standards amongst it's members.  Hypnotherapists who belong to the NCH have to abide by a code of conduct, provide proof of insurance and are accountable to the public through a complaints procedure.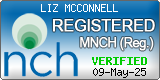 CNHC - Our key purpose is to protect the public. The Department of Health has recommended that, where CNHC registers the complementary therapists in question, you consult with someone who is CNHC registered
Hypnotherapy Equipment UK Ltd -
These lovely people have been supplying me with equipment for over ten years. I find them very helpful and supportive whenever I need advice and not being the most technically minded person in the world, that's quite often.
Studio 37 Stirling
Studio 37 is the home to the Daisy Foundation and run by Sarah Sangster a guru in the pregnancy and breast feeding world.  It's a great venue and right next to my office. Perfect for workshops like my Mindfulness Plus workshop.